Wow!, the 16 pagers hit the streets around 1934 .... How cool! With all that space to develop storylines Mr. Prolific turns out some immortal classics like this Betty Boop, Amos 'N Andy the Hip Flipper and many others.
We have over 30 of these double sized extravaganzas, to my knowledge there are around 40, running from 16 to 32 pages, .... but you never know when another will pop up, so we're always looking for more.
Keep an eye on this page, more 16 pagers will be added periodically

Betty Boop in "Flesh"
A casting couch favorite, poor Betty Boop is to dumb to realize she is only being used for sex, and there's never a part! This is excellent and very funny 16 page Tijuana Bible by Mr. Prolific.

The Kentucky Kernal
When the Kernal discovers his Daughter getting banged he says the family honor must be retained, and they have to marry, but they love each other and it's a happy ending.
Unfortunately, it's easy to understand why this Tijuana Bible doesn't show up reprinted like many others. The unfunny story ends a few pages short, the rest is filler material including a "self portrait" of the editor and a page for Eclipse and Mamie, the racist black stereotype comic relief.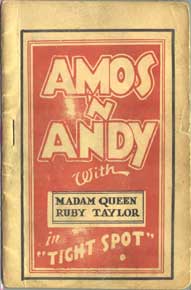 Amos 'N Andy in "Tight Spot"
Mr. Prolific brings the characters of the radio show "Amos 'N Andy" to life in this ridiculous, racist, pornographic comic book.
Andy finds himself in a "tight spot" when the Kingfisher's new invention, a pussy tightening salve, turns Madame Queen Ruby Taylor's vagina tighter than a rat trap. Super funny!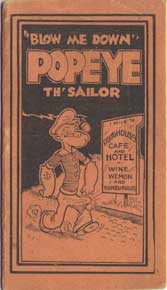 Popeye The Sailor "Blow Me Down"
Popeye's back in town and horny as hell after 6 months at sea. Just in time for a big party at Roughhouse's saloon, he carries off the first floozy in sight ..... to the rooms upstairs.
Olive Oyl bursts through the door, and finding she is more excited than pissed, and makes it a threesome. The last page has Popeye's top reasons for eating spinach.

Popeye in Balochy Bill
Back from another long voyage with a pet parrot, Popeye heads to roughhouse's for some fun, and finds the towns hottest lay. His Parrot, wins a bet with the girl's canary, but she screams rape when he tries to collect. Upset from loosing out on some canary pussy, he gets revenge by biting Popeye in the Nuts. Not as funny as it should be!

Moon and Uncle Willie Mullins
Moon invites his Uncle Willie to forget about Mamie for the night and join him with a couple of babes.
The Mullins boys get a little more than they bargained for with these two wild girls who leave them walking away "ruint". ....The action climaxes when one of the young ladies actually shits in Uncle Willie's new hat!
An additional set of very rude cartoons runs across the top of most pages.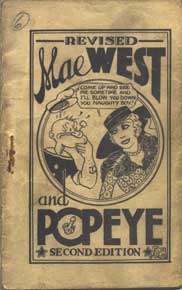 Mae West and Popeye
Mae West and Popeye were among Mr.Prolific's favorite subjects and this is their ultimate love match. With a gigantic spinach induced erection, the one-eyed sailor fucks Mae into unconsciousness and carries her back to Hollywood. Also featuring J.W.Wimpy and Rough House. One of the significant differences in the revised edition is the addition of jokes in the margins of the pages as well as some Tijuana Bible etiquette: "The Height of Stinginess - To Read on of these and Not Buy It."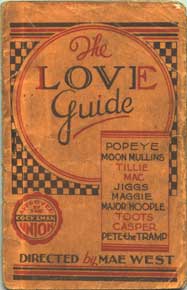 The Love Guide
The Love Guide is your invitation to Jiggs and Maggie's private sex party, where Popeye, Moon Mullins, Toots and Casper and other stars of the underground comic world engage in acts both depraved and ridiculous.
Around the World with Mae West
The inimitable Mae West, bawdy star of 1930's Broadway Theater and Hollywood, invites the reader into the audience to view her life story and begins with this introduction.
"This Book is dedicated to those who
are so evil minded that ~ they Ridicule
others to satisfy their own Sexual Desires"
An obvious precursor to Mr. Prolific's 32 page masterpiece, "The Hip Flipper", Mae recounts her earliest sexual encounter and subsequent search for sexual satisfaction, climaxing with the discovery of Popeye the Sailor's gigantic schlong.
Prolific's fascination with Mae West made her the headliner of some of his greatest comics and the Queen of the Tijuana Bibles. If you've never seen Mae in action, you really can't comprehend her appeal, there's never been another personality to compare to her. I highly recommend viewing "She Done Him Wrong" or "I'm No Angel" (both Paramont 1933) for a taste of Mae at her uncensored best.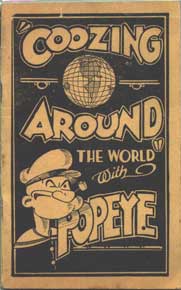 Coozing Around the World with Popeye
Popeye the Sailor leads a "desperate band of gash promoters" on an epic 24 page world wide quest for pussy.
This one has it all, a full page poem on the preface page, as well as every deviation Mr.Prolific could think of including cannibalism (Wimpy bites Geezil's dick off). From double teaming Hula girls with Wimpy to Chinese Whores and Native Beauties, everyone gets it including Alice the Goon & the Sea Hag too! This comic is lots of fun!