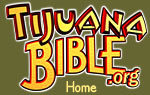 Superman with Lois, A Rare Tijuana Bible!
copyright© 2004, 2005 Tijuanabible.org
I've heard rumors about the existence of an early Superman 8 pager, but could never find an actual owner, so I was excited to get my hands on this pretty decent edition.
There's no doubt this Superman Tijuana Bible was drawn in the early 1940's, the artwork is crude, with swipes of familiar Joe Shuster poses. Superman rescues Lois' virtue and then takes it himself. The height of the dialogue is: Superman, you were just in the nick of time he was about to fuck me ... I don't see how I can hit a guy for that!
Since superheroes are missed by the golden years of Tijuana Bibles, we don't really see them until the late 1940's when the artist known as Mr.Dyslexic parodies a number of National (DC) superhero characters including Superboy, but not The Man himself. In the 50's Superman will turn up in the Boarderless and Barber Pole series.
Did Superman really have a kinky side? you really need to check out Secret Identity: The Fetish Art of Superman's Co-Creator Joe Shuster
all artwork and text copyright © 2004 2005 TijuanaBible.org