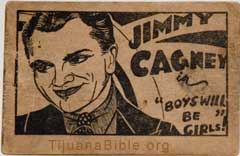 A number of our readers are interested Gay erotica and have requested I look for vintage eight pagers for their collections. Since no one has every assembled a list Gay Sex in these comics, we thought it was a good time to start working on one.
There aren't that many gay references in these vintage eight pagers. While Mr. Prolific sprinkles in a few lighthearted homosexual acts, (see a Fairy's Dream of Paradise), Blackjack is a different story. These are some of his best!
A Softer Side of Gay Sex, with the Warner Bros. Tough Guys
My favorite, Jimmy Cagney in "Boys Will Be Girls"! .... Cagney and O'Brien try to get it on without Dick Powell, who arrives in his cowboy suit! ... I loved watching these guys since I was a kid, and imagining them saying these outrageously camp lines, makes me crack up.
Of course, the most obvious Gay themed 8 pager, "Cary Grant, in Who's A Fairy", has no gay sex at all! Cary, disproves those pesky sissy rumors , to an accusing Franciska Gaal.
Fuck A Duck!!!
Donald Duck walks on the wild side when he hooks up with a well hung "lady" duck in "Universal Desire"
In "Abie the Agent, in Conquering New Fields", Abe Kabibble is tired of women and decides to give his friend Myer a try. When Myer grows tired of blowing him, Abie returns to his wife Goldie... this is pretty funny.
Disappointed they don't have the cash to visit a new whore house, Smokey Stover sucks the Chief's cock in "Cash U. Nutt, in Who's to Foo Who". Luckily one of the Whores drops by and saves the Chief from smoking Smokey.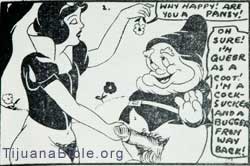 Fairy Tale Fairies
In "Snow White Makes Bashfull Grow Bold!! and He Loves It!", Bashfull wishes Snow White had a Cock, so she produces a "fake dong"
One of the funniest, "Happy has a Peculiar Idea", exposes Happy as Gay ... and to Snow White's dismay, ... he gets the Prince!
Joe the Janitor, "Earns His Keep" as a switch hitter.
The Darker Side of Gay Sex, Blackjack Makes it Hurt
Though most of this is good sexy gay fun, things get as rough as anal rape in "Terry and the Pirates, in Some Chinese Joys", when Chinese Connie sodomizes the evil Sandhurst as punishment.
Blackjack continues the sexual dominance in " Burma in A Dose of Yellow Fever", in which, General Kang needs to fuck all his prisoners into submission.
Not to forget the ladies, ... several of Blackjack's bibles have girl on girl action, but the prize goes to "Bette Davis and Various Nookie in You Picket - You Brought it Here!!!". Davis, Lombard, Detrich, and Hepburn have to resort to lesbianism while their pussies are on strike to men!
Though I have most of Blackjack's Tijuana Bibles, my collection isn't complete. I don't have the "Prince" from Snow White and there may be others I have missed. Meanwhile, I'll continue to add to this list as other Tijuana Bibles with Gay Sex turn up.