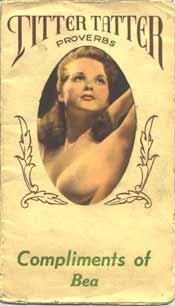 What a naughty give-away from the 1940's!
Titter Tatter Proverbs celebrates the human form, or at least it's an excuse to practice Man's oldest hobby, objectifying Women's bodies.
And who is this "Bea"? Could she be an actual person? I'd like to imagine her as a sophisticated Madame, with big city clientele. After all this doesn't look like a give-away from Joe's Auto Parts.
The sight of a statuesque, nipple-less beauty, peeks through the die-cut cover, flip it over and enjoy the full view.
As you unfold Titter Tatter you are warned of "Entering Forbidden Territory"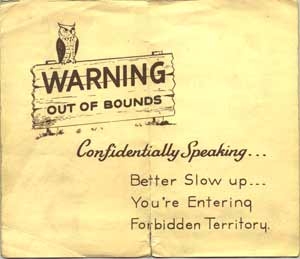 As you unfold Titter Tatter Proverbs you receive a stern warning.
After all, you may have a fear of nipples!
And then....
From here on ...
PROCEED AT YOUR OWN RISK!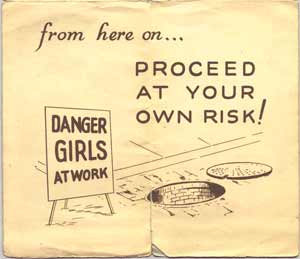 "Danger Girls At Work" leads one to think could this actually promote "working girls". Does the open "manhole"have a double meaning ?
When you finally get it unfolded, you are treated to a number of cute cartoons highlighting the variations in Women's Breasts. Each is accompanied by quotes neither topical or funny. Breastypes does a little better with their captions, but it's no National Lampoon.
Titter Tatter Proverbs, a Sexy Premium in It's Unfolded Glory
Titter Tatter unfolded
The text below the die cut says:
Some say volume is the best
Others, quality is the test
When you get the two together
Be prepared for any weather.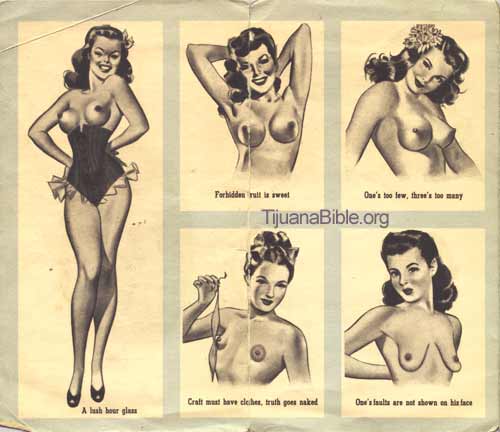 Caption 1 - A lush hour glass
Caption 2 - Forbidden fruit is sweet
Caption 3 - One's too few, three's too many
Caption 4 - Craft must have clothes, truth goes naked
Caption 5 - One's faults are not shown on his face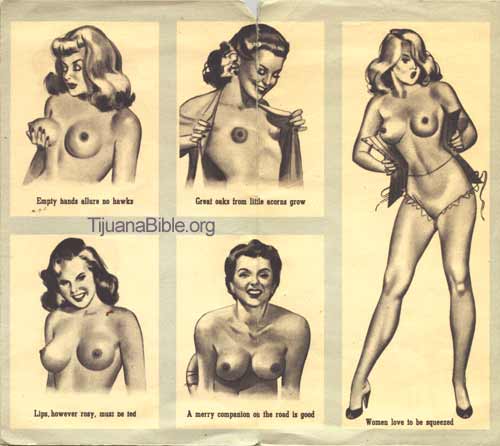 Caption 6 - Empty hands allure no hawks <br>
Caption 7 - Great oaks from little acorns grow <br>
Caption 8 - Lips however rosie, must be red <br>
Caption 9 - A merry companion on the road is good <br>
Caption 10 - Women love to be squeezed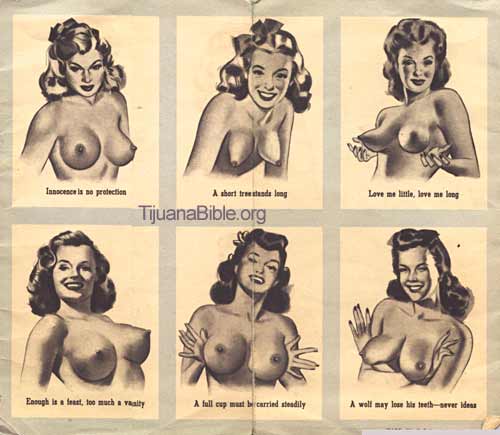 Caption 11 - Innocence is no protection <br>
Caption 12 - A short tree stands long <br>
Caption 13 - Love me little, love me long <br>
Caption 14 - Enough is a feast, too much a vanity <br>
Caption 15 - A full cup must be carried steadily<br>
Caption 16 - A wolf may loose his teeth - never ideas
A Variation of the Breast Comparison Theme
And then there is Breastypes! A smaller book (3 x 4 inches), featuring each of these girls on a single page. They make an effort at humorous quips, but many of them are pretty stupid, like, underchinners. It combines parts of the Warning graphics with some additional bra artwork.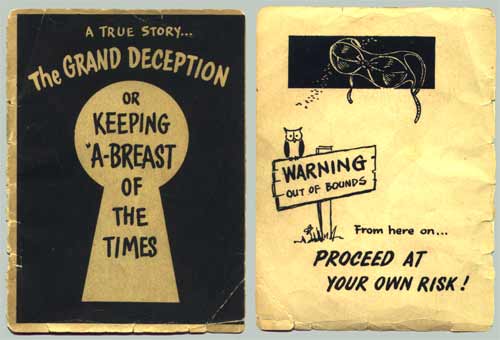 The Grand Deception or Keeping A-Breast of the Times
Page 3 offers this prose;
A flimsy wisp of gossamer
Sheltering shapes we hold so dear
Behold the truth and shed no tear
These are the facts 'neath the Brassiere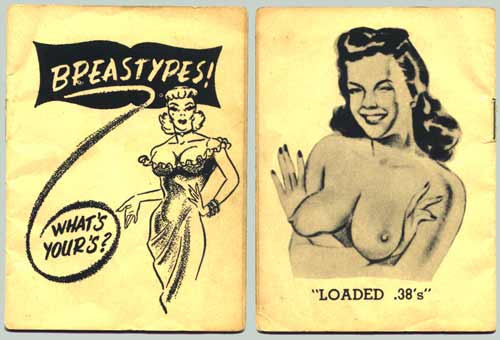 Breastypes teases us about teasing us. Though the quality of the reproduction is not as good as Titter Tatter, at least the captions make an attempt to be witty.
Key to Breastypes Captions
Caption 1 - High Buttons
Caption 2 - Falsies
Caption 3 - Under Chinners
Caption 4 - Cranberries
Caption 5 - Spaniel Ears
Caption 6 - Cup Cakes
Caption 7 - Bea Stings
Caption 8 - Sunnyside Up
Caption 9 - Hot Water Bottles
Caption 10 - 120 Watts (60 Each)
Caption 11 - You Dreamer
Caption 12 - Sweet Potatoes
Caption 13 - Water Wings
Caption 14 - Heavy Artillery
Caption 15 - Full Moons
Caption 16 - Loaded .38's