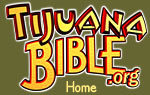 Around the World with Mae West
copyright© 2004, 2005 Tijuanabible.org
Moon invites his Uncle Willie to forget about Mamie for the night and join him with a couple of babes.
The Mullins boys get a little more than they bargained for with these two wild girls who leave them walking away "ruint". The action climaxes when one of the young ladies actually shits in Uncle Willie's new hat!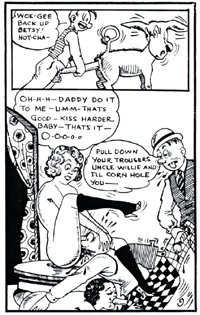 An aditional set of very rude cartoons runs across the top of most pages.
Moon and Uncle Willie Mullins is 16 pages, measures 4 1/8 x 6 1/8 inches and is printed on tan cover stock with white interior.
Prolific's fascination with Mae West made her the headliner of some of his greatest comics and the Queen of the Tijuana Bibles.
If you've never seen Mae in action, you really can't comprehend her appeal, there's never been another personality to compare to her. I highly recommend viewing "She Done Him Wrong" or "I'm No Angel" (both Paramont 1933) for a taste of Mae at her uncensored best
Purchase Moon and Uncle Willie Mullins for $7.95 US Shipping Included

all artwork and text copyright © 2004 2005 TijuanaBible.org