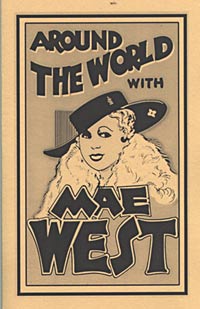 The inimitable Mae West, bawdy star of 1930's Broadway Theater and Hollywood, invites the reader into the audience to view her life story and begins with this introduction.
"This Book is dedicated to those who
are so evil minded that ~ they Ridicule
others to satisfy their own Sexual Desires"
An obvious precursor to Mr. Prolific's 32 page masterpiece, "The Hip Flipper", Mae recounts her earliest sexual encounter and subsequent search for sexual satisfaction, climaxing with the discovery of Popeye the Sailor's gigantic schlong.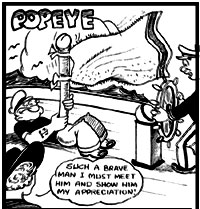 Prolific's fascination with Mae West made her the headliner of some of his greatest comics and the Queen of the Tijuana Bibles.
If you've never seen Mae in action, you really can't comprehend her appeal, there's never been another personality to compare to her. I highly recommend viewing "She Done Him Wrong" or "I'm No Angel" (both Paramont 1933) for a taste of Mae at her uncensored best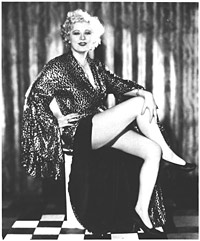 Mae West, 1932 by Irving Lippman, for Paramont. Leg Art for her film debut in
Night After Night
.
It is especially intriguing that one of this story's lovers is Elmer Zilch himself, the artist's favorite pen name. Mr. Zilch says, "Ah my beautiful one I have longed to show my love for you" .... Mae replies, "You mean you just longed to fuck me".
In a comic only titled "Dixie Dugan'', there is another case of Prolific self portrayal. After being seduced into park bench sex by a smooth talking artist, Dixie is shocked to find out his great achievement is the creation of little 8 page sex comics, for which he must remain anonymous.
Around the World with Mae West is 16 pages, measures 4 1/8 x 6 1/8 inches and is printed on tan cover stock with white interior. More than a reprint, this is a quality restoration better than the original first edition used as source.