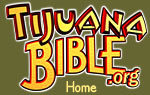 Nellie the Nurse, A private Tijuana Bible Discovered
copyright© 2004, 2005 Tijuanabible.org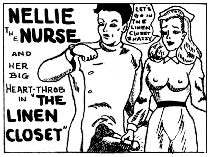 We've recently discovered a Tijuana Bible Titled; Nellie the Nurse and Her Big Heart-Throb in "The Linen Closet".
Nothing like personalized porn! This seems to parody the sexcapades of a real life hospital staff, probably from the 1940's! It's printed on some unusual photo type paper, so there were probably just a few for intimate friends.
It took quite an effort to restore, but we thought it was well worth making this cool eight pager available to our fellow collectors, you can purchase a new reprint from our library, it's code is Nellie the Nurse tjc97
If you are familiar with other comics by this artist please contact us.
all artwork and text copyright © 2004 2005 TijuanaBible.org