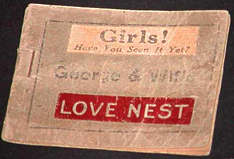 circa 1930 George & Wife 10 pager
The "Girls" & "Love Nest" were applied after printing. Perhaps this copy was actually displayed somewhere where women might have seen it.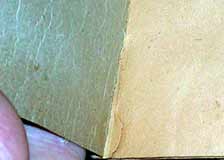 The first page (blank on both sides) was carefully torn out. Page 1 is the reverse of that next blank page.
The Earliest Underground Comics
Sometimes in the late 1920's the very first comic books appeared in America.... and they were dirty ones!
Exactly when, where they were printed, or which books came first ( if those survived at all) no one can say. One thing is certain, though, from very early on, distribution was highly organized and they became available in a number of cities.
Very early series known, included the greats of the 20's; ...Barney Google, Toots & Casper, the Gumps, Tillie the Toiler, Happy Hooligan, Abie the Agent, etc.
The earliest of these comics known, had nondescript or text covers, and were printed on white paper. Many were actually as much as 12 pages in length. They were probably printed after hours in one of the large plants in Newark or Brooklyn. Awkward printing & folding often resulted in unevenly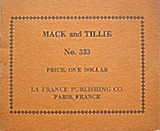 LaFrance 12 pager Mac & Tillie reprint early 1930's
paginated comics that often started with blank pages and printing that jumped from side to side.
Some of these early Tijuana Bibles are reprinted in their original 12 pages under the La France imprint (Paris, France), the most popular of these books trickle down through the 1930's, edited to the 8 page format as Tobasco Pub Co. (Havana, Cuba) editions.
The Golden Age of Comics
Big Profits in Little Comics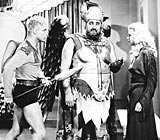 Buster Crabbe as Flash Gordon
The 1930's was truly the Golden Age of Comics .... all comics, not just 8 pagers.
In 1929, Hal Foster's Tarzan heralded the birth of the adventure comic strip and was followed by Buck Rogers, Flash Gordon, Jungle Jim, Dick Tracy, Mandrake, the Phantom and hundreds of others. Some of these characters made it to the movie screens as weekly republic serials as well starring in their own tijuana bibles ... there's nothing like a cliffhanger to keep you on the edge of your seat.
By the mid 1930's legitimate comic books have switched from reprints of earlier syndicated newspaper strips to brand new material. The newsstands are flooded with 64 page comics, all in color for a dime .... while the 8 pager had an asking price of as much as a buck each.
Eight pagers Marketing and cover style
By the early 30's we see cover motifs & even numbering, graphically defining Eight Pagers as sets. Some examples include The Slash, Billboard, Square w/ wrinkled sash , Spotlight , Marquee, Engagement Ring, Woven Circle, Left Spot w/ deco bubbles, Cartoon Girl, etc.

Spotlight Design

Slash Design

Engagement Ring Design

Billboard Design

Woven Circle Design

Marquee Design
The Most significant artists of the 1930's
Though an unknown number of people contributed to

Al Capone was #1 with a bullet in Mr. Prolific's Underworld Series
( and some detracted from ) the eight pager over it's 75+ year history, it's creative foundation rests on the work of a few. The most notable, called
"Mr Prolific"
, dominated the genre from around 1931 to 1938 and produced many of the greatest classics.
Prolific was as capable as any comic pro, he had no problem drawing characters in their familiar styles, and could nail the most well known likeness, as noted in his Underworld Comics, and more obscure Radio Stars series.
Though his ultimate achievement is "The Hip Flipper", a semi-fictional recounting of Mae West's introduction to Hollywood debauchery in 32 beautifully drawn pages, he is best remembered for his "Adventures of a Fuller Brush Man", a series about an insatiable traveling salesman that spanned 10 eight pagers.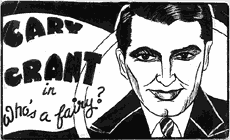 Rare 1938 Cary Grant original artwork
Another important but less recognized artist began sometimes in the mid 1930s, he is known as "Blackjack", for the leathery, gnarled, menacing, looking cocks he drew. Though he started with the usual cartoon parodies he soon found his niche in celebrity Eight Pagers. He turned out the classic "Cary Grant in who's a Fairy" as well as many other outrageous takeoffs involving Hollywood's major and minor personalities. As these books were dated by the stars popularity, many titles did not see the years of multiple reprinting enjoyed by the cartoon classics, so his contribution is underrated.
In the late 1960's, in downtown NYC, the original drawings to "Cary Grant" and several other Eight Pagers are discovered in a print shop where they were possibly first produced. These were recently acquired by TijuanaBible.org and will be the centerpiece of a planned public exhibit exulting the dirty little tombs.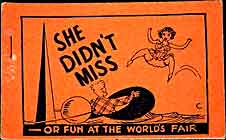 She Didn't Miss at the World's Fair


Wesley Morse's Copacabana Girl
NYC 1940's
Perhaps the most memorable of all are the comics of Wesley Morse. While most 8 pager humor had a dark side his books were lighthearted sex romps where everyone "came" away happy. (sorry!)
Morse, a seasoned pro of newspaper comics and advertising, knew how to connect with his audience through everyday scenarios we can all see ourselves in.
As an "A Train" rider for many years, I particularly enjoy "It Started in the Subway - and Ended in the Bronx". The fantasy of anonymous sex with a cute straphanger, rings a bell with every urbanite who's ever fixated on rubbing against a sexy stranger's ass!
His 1939 Worlds Fair series comics are probably the most reprinted 8 pagers of all time. The notion of sex at the Fair was innovative and fresh, even today these books get the best reactions from new readers, especially Women.
It's important to note, Wesley Morse never used another cartoonist's characters in any of his 60 or so eight pagers.
Deluxe Tijuana Bibles with Ornate Borders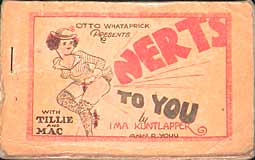 Nertz To You 10 pager
By the mid 30's the demand for new 8 pagers far outstripped their production and books are being constantly reprinted (pirated), sometimes by numerous publishers at the same time. The quality of these comics varied from excellent to total crap.
There were some attempts at deluxe books like Mr. Prolific's 8 issue Ringside Series which includes John L. Sullivan and Max Baer. These 10 pagers had 2 and even 3 color covers as well as exceptional artwork.
There was also,
"She Will Be Coming Around the Mountain"
,
"Art of Love by Popeye "
,
"Yes We Have No Bananas",
"Nertz to You"
,
"Kansas City Kitty"
,
"The Lonely Widow"
and others with 10 pages, .... some of which are actually 8 page stories "padded" with 2 filler gag pages. Altogether we know of 42 separate Tijuana Bibles titles sharing the Ornate Border Imprint, both 8 and 10 pagers are included.
Click for part 2