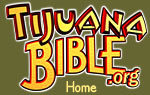 Blackjack's Tijuana Bible Original Art
copyright© 2004, 2005 Tijuanabible.org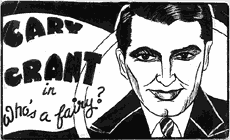 They call him "Blackjack", named for the gnarled, leathery cocks of his horny heroes. It's a name handed down through several generations of Tijuana Bible collectors.
Blackjack was one of the most important Eight Pager artists. Second to the master, Mr. Prolific, in production, He or She, created somewhere around 100 books in the late 1930's. Though Blackjack drew a number of comic character takeoffs, his/her specialty was the celebrity parody. Few were spared his/her abuse, especially, if you were dogged by gay rumors like Cary Grant. See Gay Sex in the Tijuana Bibles for more about Blackjack's work.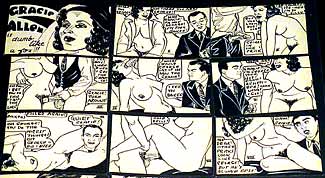 Just recently at auction, TijuanaBible.org obtained the original drawings to five of Blackjack's classics. These are great 8 pagers featuring Cary Grant, George Burns & Gracie Allen, Robert Young, Vera Zorina and tough guy George Raft.
The Blackjack panels are all separate brush & ink drawings on 3 x 5 drawing paper.
It's really a treat to view these originals, the printing in most of the vintage comics just doesn't do Blackjack's artwork justice. The covers are especially lovely and really show how talented this underrated artist was.
Check out new issues of these classic books here.
all artwork and text copyright © 2004 2005 TijuanaBible.org