.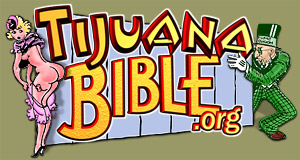 Tijuana Bibles featured popular 1930's cartoon stars in outrageous sexual situations!
.

Welcome underground comic book lovers!

Tijuana Bible.Org was founded to preserve this unique part of our American culture.
We're collectors of original 8 pagers and always interested in sharing our finds, as well as buying comics to add to our collection.
In actual newspaper sequences where he dresses as a woman, and even marries the villain, Popeye the Sailor was no stranger to outrageous sexual situations. His coterie of offbeat characters hung around the waterfront dive of a cook named Roughhouse.
Tijuana Bibles cartoon parodies are reprinted as examples of traditional American satire and social commentary.They make fun of real life personalities or comic characters that may be copyrighted or registered but in no way should be construed as an attempt to defame, challenge to, or as an endorsement by copyright holders